Learn more about the Constables with this video!
Flagstaff 2018 information and registration now available on the Events page or get the registration form Here!
---
A MESSAGE FROM
PRESIDENT RON WILLIAMS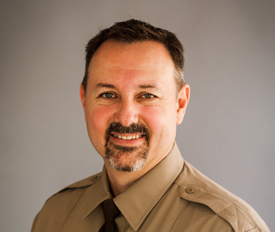 6:26 PM 1/29/2018
Ladies and Gentlemen,
The ACA has wrapped up our training conference at the Tubac Golf, Resort and Spa, located in Tubac. I was pleased by the caliber of instructors and the range of topics we were able to bring to our members.
At the conference, during our ACA Business meeting, we elected our board members per the ACA Bylaws which state "All directors, except Past President, shall be elected for a term of two (2) years. Elections for directors, will be held every even numbered year at the first annual meeting of the association membership". Congratulations to the new board!
We have sent out firearm and use of force training questionnaires to those members whose counties participate in the Arizona Counties Insurance Pool. Please fill these out and return them as soon as possible. We will be scheduling training in the next few months.
Our next conference is scheduled for September 18
th
- 20
th
in Flagstaff. We will be reminding you and making registration forms available later in the year.
Ron Williams
President
Arizona Constables Association
---
CONSTABLE DENNIS DOWLING
RECEIVES 2017 CONSTABLE OF THE YEAR AWARD
January 24th, 2018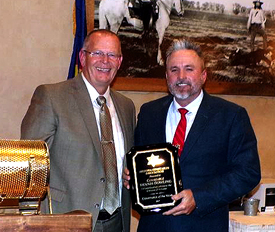 The Arizona Constables Association, which represents the majority of the Constables in the State of Arizona awarded Dennis Dowling their Constable of the Year Award.

Constable Dowling took office January 1st, 2015 and has an excellent record of serving the Bagdad-Yarnell Justice Precinct. Constable Dowling has been actively serving his community, not only in his role as Constable, but also as a Chairman for the Yavapai County 4H/FFA EXPO committee, general member of the ACA executive board, member of the Yavapai County Weaver Mountain Chamber of Commerce, and as a Yavapai GOP Precinct Captain and State Committeeman. Throughout his term as Constable, he has continually sought was to improve his office and save taxpayer money.

Constables are an integral part of the Justice Court system in the State of Arizona. A Constable is an elected official who serves as the peace officer of the court. In addition to providing judicial security services, Constables are empowered to serve all cases given to them by the Justice of the Peace or other Judges. The process includes service of criminal and civil subpoenas and summonses, writs of restitution (eviction orders), writs of execution (orders to collect judgments), writs of replevin (orders to seize property), orders of protection, injunctions against harassment, and warrants as well as any other orders from the courts. Constables may also be involved in the sale of seized property, summoning jurors for trials, and posting of liquor license notices.

Constables who are elected by voters within their judicial precincts are able to provide timely and cost efficient service by working directly with the courts in their local communities to ensure the court's orders are served with justice in an ethical and respectful manner.


---
CONSTABLE ENRIQUE GÁRFIAS
An excerpt from phoenix.gov:
Enrique "Henry" Gárfias was an early Phoenix community leader, and the first Hispanic to hold an elected office in the city. Gárfias was born in Mexico, and grew up in California. He came to Phoenix in 1874. Four years later he ran for town constable and won, defeating several Anglo candidates. His duties included serving legal notices and assisting in operations of the peace court. In 1881, Gárfias ran for the position of Phoenix's first city marshal.
Read more of this on our
Constable History
page.
---
WELCOME!
Welcome to the Arizona Constables Association web site. This site has been developed to assist you with learning more about this elected position.
Did you know that the job of a Constable varies depending on the county he or she works in?
Constables have been a part of Arizona since the days of the Wild West. On our
About page
, the constable's rich history will take you on a journey from territorial days to present times.
Although the Ethics, Standards and Training Board is a separate entity from the Association, several association members serve on the Ethics, Standards and Training Board, which oversees the conduct of Arizona's Constables. For more information about the board, browse over to our
Ethics, Standards and Training Board page
.
Under the
Members Section
you will find a listing of the current members of the Association and their biographical information.
We hope you enjoy this site and if you have any further need to contact a board member, please see the
Board Members page
.
---
---
DONATION TO THE ACA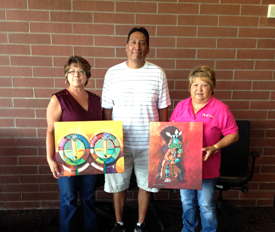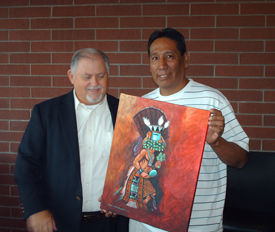 Hopi Artist Richard Gorman from Holbrook Arizona donates paintings to the ACA for the raffle. Known for his colorful paintings of native life and Kachinas, Richard is pictured here with Constable Phyllis Romo and Constable Pauline Hernandez and also next to President Phil Hazlett. Richard's work can be found in galleries across the state and also online including the sites mentioned below.
---
ACA AWARDS 2013 SCHOLARSHIPS
The ACA provides two scholarships every year in the amount of $500. Any Constable, immediate family member of an elected or appointed Constable or Honorably retired Constable is eligible for these scholarships. This year's recipients were Clayten White, son of Constable Colt White (Payson Regional Precinct) and Jennifer Runge, daughter of Constable Hank Hellman (Mayer Precinct). These scholarships are announced every year and information will be posted on the ACA Website.